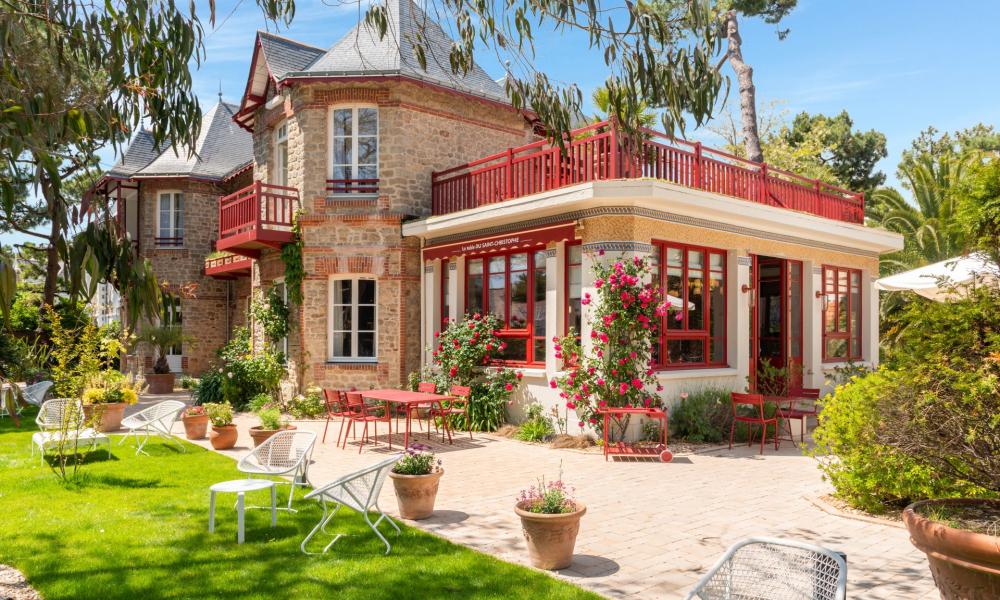 The garden
A century-old garden
The Saint-Christophe and its garden, it's a beautiful and long love story!
The first owner, Madame Dehilotte, was a plant and flower enthusiast, and in 1929, the house won first prize in the La Baule flower garden competition. All the owners who succeeded him shared his love for the garden, and contributed to preserve and embellish these places and plant remarkable species.
A multi-faceted garden
. It stretches mainly over two levels.
In the front, the lawn hosts the garden bar seating and pretty English-style beds, where roses mingle with perennials, such as sage, lavender and agapanthus, in front of the façade decorated with Virginia creeper.
At the back, below, the shady garden hosts a beautiful collection of remarkable trees and hydrangeas. The famous La Baule pines, but also palms, phormiums and potted plants, punctuate the place.
>
Notable trees
The garden discreetly houses a beautiful collection of remarkable trees: a dozen camellias, several varieties of eucalyptus, a magnificent oak tree, an amazing Japanese cedar and various varieties of palm trees...
In the spring, it is the incredible blooming of the Himalayan apple tree that attracts all eyes. In the fall, its multitudes of cherry-sized apples often beckon our hôtes.
The garden is also home to a beautiful diversity of edible species: fig, apricot, olive, persimmon, arbutus...
Don't'h'site; help yourself!
The Narcissus Collection
Despite the richness of our beds, spring bulbs were the big absentees in the garden. Two years ago, we wanted to do something about it and we started to focus on daffodils. As we discovered their immense variety, we could not resist the temptation to start a collection.
So we decided to start a collection.
More than 400 bulbs have been planted by the St. Christopher's staff. You will be able to see the daffodils around the garden from the very first days of March until the end of April, beginning of May. And if during your visit, you want to know the name of a particular variety, do not hesitate to ask us, we will be happy to inform you.
.