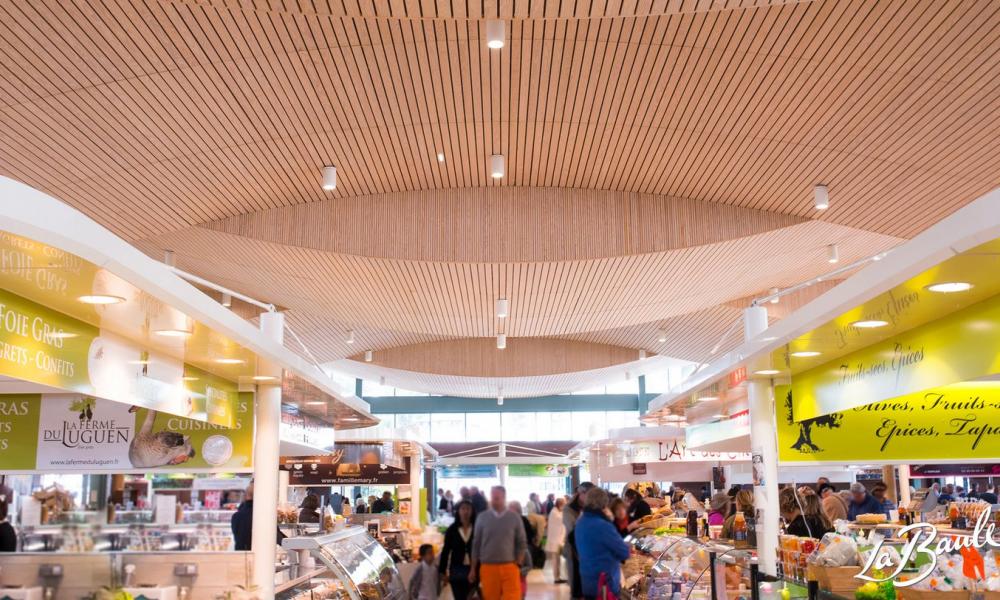 La Baule market
The market of La Baule
A must-see place in La Baule, where locals and visitors meet, the La Baule market is located about a hundred metres from the Saint-Christophe. In fact, it is just around the corner!  
In season, this market is open every day, from 9am to 1pm. Between October and March, it closes on Mondays.  
Visiting the market is both a visual and a gustatory experience! What a pleasure it is to stroll through the aisles and observe the stalls of the 48 local producers present... It is also the ideal place to bring back a typically Baulois gourmet souvenir.  
Not to be missed at the La Baule market
Le Fondant Baulois - The emblematic cake of La Baule, a delicious chocolate cake with a delicate caramelised flavour, which can be kept for several days at room temperature, without additives or preservatives. The ideal gift to take home!
Burban Family Strawberries - Juicy, sweet and tart, these are THE strawberries of La Baule. It is impossible to stay in La Baule without tasting them! Of course, they can be found in the desserts of the Saint-Christophe!
La Maison Huitric and its delicious tomatoes - Many old varieties, very tasty. Take them home with you for the first dinner back home, to enjoy the holidays a bit more.
L'Art des Choix's sausages - Many of our customers drop in on the morning of their departure to stock up... An impressive choice, there's something for everyone!  
Meet the Chef at La Baule Market
If you go to the market early in the morning, it is quite possible that you will come across our chef, Nathan Gourhand. We work with many producers at the market, including  
La Maison Huitric - Tomatoes and other vegetables
The Burban family - strawberries and raspberries
Les Jardins de Domhéry - vegetables
Les Caprices de l'Océan - Fish and shellfish
La Maison L'Ostréa - Oysters
You may also come across one of us buying flowers at Madame Retif's stall for the many floral arrangements in the house!
The market hall of La Baule
The building that houses the La Baule market was inaugurated in 2013. The old market hall dated from 1913 (like the Saint-Christophe!) and, as it no longer met standards, was demolished in August 2011.  
The new hall was designed by the architect Joël Guimbert. The idea was that the interior architecture should reflect the "gentle way of life in La Baule". Rounded corners, wave-shaped ceiling, noble materials and insulation designed to absorb noise...  
This hall is very successful and the new building was immediately adopted by the inhabitants and shopkeepers of La Baule.   Photo credits: © La Baule Escoublac / Pedro Lousteau (photos of the market) © PackShot (photo of the market strawberries)